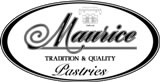 The Company
Maurice Pastries Incorporated is a Virginia- based company providing high quality Pastries, desserts
and cakes for several well known hotels in the metropolitan area. Our Customer list highlights the
Omni Shoreham Hotel, the Hilton Washington in D.C., with several other Hilton Hotels, the Wyndham Hotel, the Marriott, Sheratons, Radisson Hotels, Westin Hotels and several others.
Management
President and Pastry Chef Toni Srour have over 35 years of baking and management experience. He started in the family profession managing his father's business from 1979 to 1989, a well – known pastry shop established over 50 years ago. Chef Srour has served as an Executive Pastry Chef in Washington D.C. from 1990 to 1992 prior of starting Maurice Pastries Inc. with his wife Samar Srour.
IT IS SIMPLY FROM SCRATCH
We started rolling our first dough in 1993 using top quality ingredients, fresh, wholesome and natural.
We worked closely and cooperated with Executive Chefs at hotels to customize their menus. Through the ten years in business, Maurice Pastries Inc. is proud to have earned the confidence and trust of all its clients by maintaining high standard and consistently delivering quality products and services.
In response to many requests from friends and neighbors, Toni and Samar introduced in 2008


Café Espresso Bar to the retail market, located in the heart of the Mosaic District at Merrifield Town Center, next to Target. Now, our new retail customers can enjoy this fine selection of desserts rarely found at other pastry shops. Pastry Xpo is proud to be considered one of the elite pastry & coffee shop in the Washington metropolitan area
We hope you like it
Samar & Toni Srour
Chefs / Owners